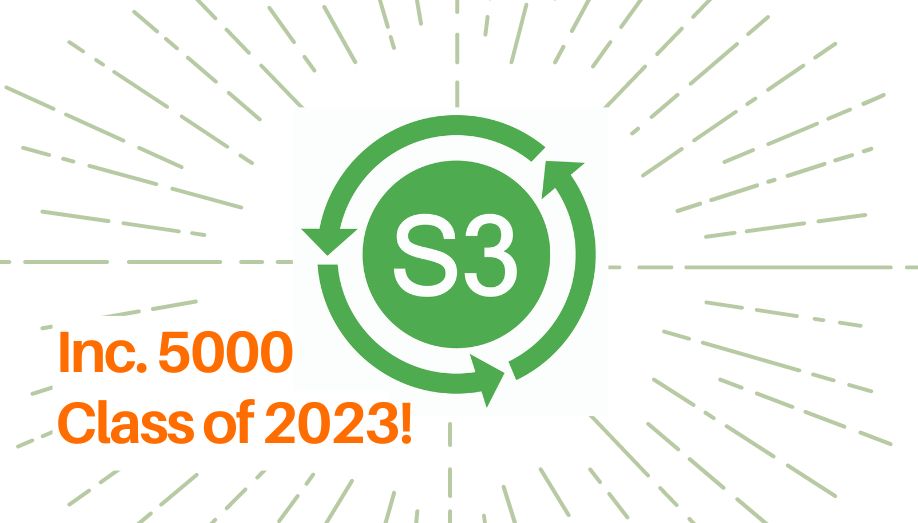 SPRINGFIELD, Tenn. – S3 Recycling Solutions today announced that it ranks No. 1006 on the 2023 Inc. 5000, an annual list of the fastest-growing private companies in America. This is the third consecutive year that the Middle Tennessee electronics recycling firm has been named to the prestigious ranking of independent, entrepreneurial businesses across the country.
"S3's sustained revenue growth is the manifestation of our team's daily hard work and dedication to excellent customer service," said S3 CEO Rod McDaniel. "I am grateful for the opportunity to provide clients across the nation with a hassle-free option for managing their excess technology assets, and ultimately providing sustainable business solutions for the national economy as a whole."
The Inc. 5000 class of 2023 represents companies that have driven rapid revenue growth while navigating inflationary pressure, the rising costs of capital, and seemingly intractable hiring challenges. Among this year's top 500 companies, the average median three-year revenue growth rate ticked up to 2,238 percent. In all, this year's Inc. 5000 companies have added 1,187,266 jobs to the economy over the past three years.
S3 has had other notable successes in 2023 including adding 78,000 square feet of warehouse space in June to its real estate portfolio, hiring a new chief operations officer, earning the information technology asset disposition (ITAD) industry's top certification and receiving local recognition for being a best place to work.
"The external validation that S3 is accumulating year after year shows that we are becoming the leader in ITAD that we strive to be," said S3 Board Chair Brian Moyer. "I couldn't be more honored to serve on this team and play a part in the organization's continued progress."
For complete results of the Inc. 5000, including company profiles and an interactive database that can be sorted by industry, location, and other criteria, go to www.inc.com/inc5000. The top 500 companies are featured in the September issue of Inc. magazine, available on newsstands beginning Tuesday, August 23.
"Running a business has only gotten harder since the end of the pandemic," says Inc. editor-in-chief Scott Omelianuk. "To make the Inc. 5000—with the fast growth that requires—is truly an accomplishment. Inc. is thrilled to honor the companies that are building our future."
About S3 – Secure Sustainable Solutions. S3 Recycling Solutions is a full-service information technology asset disposition firm with an emphasis on cost-effective processes for receiving, sorting, re-purposing and re-marketing electronic assets. We help our customers reduce the cost of ownership of their electronic technology assets, while providing a peace of mind that data security is maintained at the highest industry standards. Since its inception in 2007, S3 has supported a diverse client base throughout the United States and Canada. S3's vision is to combat our planet's e-waste epidemic by employing both environmentally and financially responsible processes for a stronger, safer global community.
More about Inc. and the Inc. 5000
Methodology – Companies on the 2023 Inc. 5000 are ranked according to percentage revenue growth from 2019 to 2022. To qualify, companies must have been founded and generating revenue by March 31, 2019. They must be U.S.-based, privately held, for-profit, and independent—not subsidiaries or divisions of other companies—as of December 31, 2022. (Since then, some on the list may have gone public or been acquired.) The minimum revenue required for 2019 is $100,000; the minimum for 2022 is $2 million. As always, Inc. reserves the right to decline applicants for subjective reasons. Growth rates used to determine company rankings were calculated to four decimal places.
About Inc. – Inc. Business Media is the leading multimedia brand for entrepreneurs. Through its journalism, Inc. aims to inform, educate, and elevate the profile of our community: the risk-takers, the innovators, and the ultra-driven go-getters who are creating our future. Inc.'s award-winning work reaches more than 50 million people across a variety of channels, including events, print, digital, video, podcasts, newsletters, and social media. Its proprietary Inc. 5000 list, produced every year since 1982, analyzes company data to rank the fastest-growing privately held businesses in the United States. The recognition that comes with inclusion on this and other prestigious Inc. lists, such as Female Founders and Power Partners, gives the founders of top businesses the opportunity to engage with an exclusive community of their peers, and credibility that helps them drive sales and recruit talent. For more information, visit www.inc.com.
Sign up to our Newsletter
(We do not share your data with anybody, and only use it for its intended purpose)