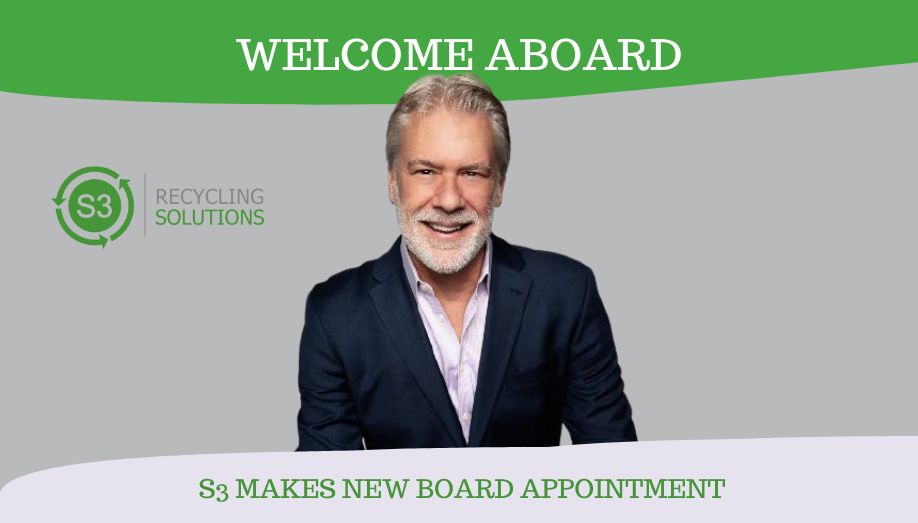 SPRINGFIELD, Tenn. – S3 Recycling Solutions today announced that Brian Moyer, former President and CEO of the Greater Nashville Technology Council, is the newest member of its Board of Advisors. Effective May 1, 2022, Moyer joins the board for a three-year appointment.
The S3 Board of Advisors was established in January and currently has three members who are responsible for advising S3 leadership on ways to grow the company, being consultants to the CEO and management team, and providing constructive and critical feedback on all aspects of the business. Based in Nashville, Tenn., Moyer joins James Crumlin, Jr., a partner at Spencer Fane law firm in Nashville, Tenn., and Myra Herring, Vice President of Operations for the Information Technology Senior Management Forum in Atlanta, Ga., on the board.
Moyer is a tech entrepreneur and advisor. He is listed on the Nashville Business Journal's 2020 and 2021 Power 100 list of most influential business leaders in Nashville and ranked #5 on the @RiseGlobal Top 100 Thought Leaders in IT. Moyer is recognized by peopleHum's global list of the 200 most influential thought leaders to follow in 2021, and he is considered a global thought leader with more than 56,000 followers.
"As a decades-long member of the information technology community in Middle Tennessee, I have personally witnessed Brian's business leadership and consulting talents," said S3 Chairman Darrell S. Freeman, Sr. "I am excited to have him on board, and I look forward to his insight and expertise as S3 continues to expand and improve our business."
Moyer is the Founder and CEO of Tarkus Advisory Group and Entrepreneur-In-Residence for Vanderbilt's Center for Technology Transfer & Commercialization. He also serves on the Alignment Nashville Board of Directors and Vanderbilt's CTTC Entrepreneurship Advisory Council. He studied Economics and Engineering Management at the Missouri University of Science and Technology before leaving to launch his first startup. He is a Certified Professional in Healthcare Information & Management Systems and is a HIMSS Fellow.
"Rod has built a very impressive business. I am excited to work with Rod, Darrell, and the other board members as we continue to provide innovative and sustainable e-waste solutions to businesses across the nation," Moyer said. "I look forward to leveraging my experience in the tech sector to add value to S3's operations, growth and national brand."
S3 has added 33 jobs since 2018, it launched a second shift in January that doubles the number of devices it processes every month, and Inc. Magazine named S3 to its 2021 list of fastest growing private companies.
About S3 – Stewardship. Security. Sustainability. S3 Recycling Solutions is a full-service technology recycling firm with an emphasis on cost-effective processes for receiving, sorting, re-purposing and re-marketing electronic assets. We help our customers reduce the cost of ownership of their electronic technology assets, while providing a peace of mind that data security is maintained at the highest industry standards. Since its inception in 2007, S3 has supported a diverse client base throughout the United States and Canada. S3's vision is to combat our planet's e-waste epidemic by employing both environmentally and financially responsible processes for a stronger, safer global community.
Sign up to our Newsletter
(We do not share your data with anybody, and only use it for its intended purpose)