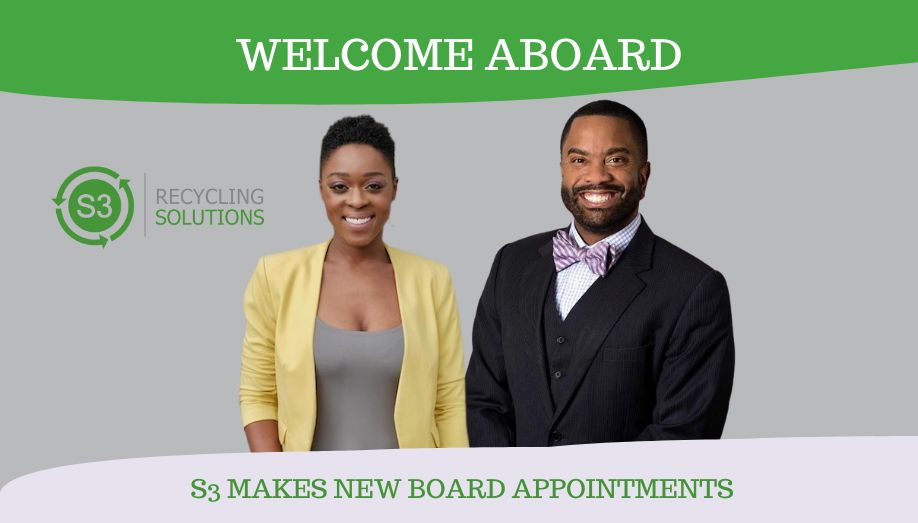 SPRINGFIELD, Tenn. – S3 Recycling Solutions today announced new appointments to its Board of Advisors. James Crumlin, Jr., a partner at Spencer Fane law firm in Nashville, Tenn., and Myra Herring, Vice President of Operations for the Information Technology Senior Management Forum in Atlanta, Ga., started three-year appointments on January 1.
As members of the Board of Advisors, Crumlin and Herring will be expected to advise S3 leadership on ways to grow the company, be a consultant to the CEO and management team, and provide constructive and critical feedback on all aspects of the business.
"As S3 continues to grow, it is important that we engage people who can offer their professional expertise to help us improve our business processes," said S3 Chairman Darrell S. Freeman, Sr. "An experienced board can be the key to an enhanced and sophisticated business strategy that will position us for long-term success."
A graduate of Vanderbilt Law School and a resident of Middle Tennessee, Crumlin is a well-known employment lawyer at Spencer Fane, a nationwide law firm with 23 offices across the U.S. He helps clients navigate the corporate legal landscape and avoid costly mistakes, so employers can focus on running successful operations. James serves as outside general counsel for several small and midsize businesses, including entrepreneurs and startup ventures in a variety of industries. His experience includes business formation and strategy, funding and investor relations, contracts, employment compliance issues, risk management, litigation, and dispute resolution.
"I am truly honored and humbled by this opportunity to serve on the S3 Board of Advisors," Crumlin said. "I look forward to collaborating with Darrell, CEO Rod McDaniel, and the rest of the Board and management team as we identify the best practices to deliver electronics recycling solutions to businesses across the U.S."
A graduate of Spelman College, Herring is an executive at ITSMF, a prestigious non-profit organization focused on increasing the representation of Black professionals at senior levels in technology, to impact organizational innovation and growth. A native of Roanoke, Va., Myra earned her MBA from Emory Goizueta Business School in 2018. She has served as a board member and secretary of the Metro Atlanta Leadership Foundation non-profit organization for 10 years and has served as a volunteer with Big Brother Big Sister of Metro Atlanta for 10 years.
"I couldn't be more excited to be a part of an organization that is helping companies to responsibly manage their excess electronics as well as using technology to enhance the lives of those in the local community," Herring said. "In addition to being proud of ITSMF and S3's formal partnership for electronics recycling, I'm looking forward to contributing my individual talents to help the company's overall success."
S3 has recently been in the news about its growth and operations expansion. Inc. Magazine named S3 to its 2021 list of fastest-growing private companies, and S3 is launching a second shift this month that is expected to double the number of devices it processes every month.
About S3 – Stewardship. Security. Sustainability. S3 Recycling Solutions is a full-service technology recycling firm with an emphasis on cost-effective processes for receiving, sorting, re-purposing and re-marketing electronic assets. We help our customers reduce the cost of ownership of their electronic technology assets, while providing a peace of mind that data security is maintained at the highest industry standards. Since its inception in 2007, S3 has supported a diverse client base throughout the United States and Canada. S3's vision is to combat our planet's e-waste epidemic by employing both environmentally and financially responsible processes for a stronger, safer global community.
Sign up to our Newsletter
(We do not share your data with anybody, and only use it for its intended purpose)