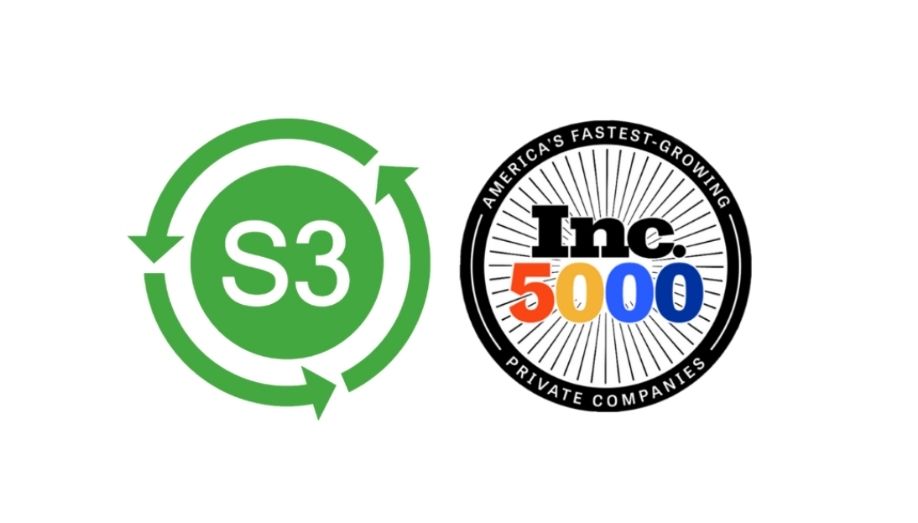 Inc. magazine today revealed that S3 Recycling Solutions is on its annual Inc. 5000 list, a prestigious ranking of the nation's fastest-growing private companies. S3 makes the list for the first time after achieving a three-year revenue growth of 248 percent.
"This is a huge milestone for our organization," said S3 CEO Rod McDaniel. "It's another indicator that we believe we're headed in the right direction. Our hard work and dedication to customer service is paying off and we're motivated – now more than ever – to keep improving, continue growing and steadily increase our positive impact on the environment and our community."
As an electronics recycler based in Springfield, Tenn., S3 employs 25 people in its 75,000 square foot warehouse.
The Inc. 5000 list represents a unique look at the most successful companies within the American economy's most dynamic segment—its independent small businesses. Intuit, Zappos, Under Armour, Microsoft, Patagonia, and many other well-known names gained their first national exposure as honorees on the Inc. 5000.
Not only have the companies on the 2021 Inc. 5000 been very competitive within their markets, but this year's list also proved especially resilient and flexible given 2020's unprecedented challenges. Among the 5,000, the average median three-year growth rate soared to 543 percent, and median revenue reached $11.1 million. Together, those companies added more than 610,000 jobs over the past three years.
Complete results of the Inc. 5000, including company profiles and an interactive database that can be sorted by industry, region, and other criteria, can be found at www.inc.com/inc500
"The 2021 Inc. 5000 list feels like one of the most important rosters of companies ever compiled," says Scott Omelianuk, editor-in-chief of Inc. "Building one of the fastest-growing companies in America in any year is a remarkable achievement. Building one in the crisis we've lived through is just plain amazing. This kind of accomplishment comes with hard work, smart pivots, great leadership, and the help of a whole lot of people."
About S3
Stewardship. Security. Sustainability. S3 Recycling Solutions is a full-service technology recycling firm with an emphasis on cost-effective processes for receiving, sorting, re-purposing and re-marketing electronic assets. We help our customers reduce the cost of ownership of their electronic technology assets, while providing a peace of mind that data security is maintained at the highest industry standards. Since its inception in 2007, S3 has supported a diverse client base throughout the United States and Canada. S3's vision is to combat our planet's e-waste epidemic by employing both environmentally and financially responsible processes for a stronger, safer global community.
About the Inc. 5000 Methodology
Companies on the 2021 Inc. 5000 are ranked according to percentage revenue growth from 2017 to 2020. To qualify, companies must have been founded and generating revenue by March 31, 2017. They must be U.S.-based, privately held, for-profit, and independent—not subsidiaries or divisions of other companies—as of December 31, 2020. (Since then, some on the list may have gone public or been acquired.) The minimum revenue required for 2017 is $100,000; the minimum for 2020 is $2 million.
Sign up to our Newsletter
(We do not share your data with anybody, and only use it for its intended purpose)