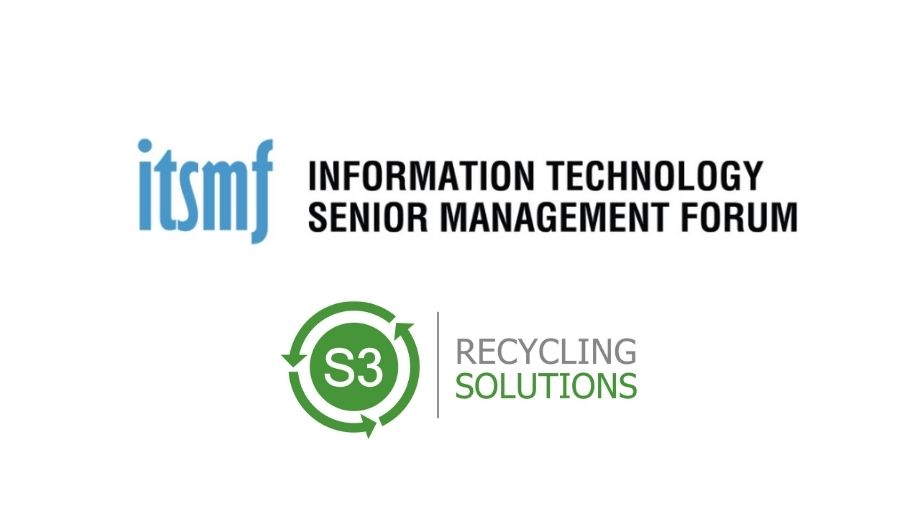 SPRINGFIELD, Tenn. – S3 Recycling Solutions and Information Technology Senior Management Forum (ITSMF) today announced that S3 has become ITSMF's exclusive IT recycling partner.
S3 is an R2-certified electronics recycling firm headquartered in Springfield, Tennessee, with operations throughout the country. ITSMF, an Atlanta-based nonprofit organization, increases the representation of black professionals at senior levels in technology through enrichment of the mind, body and soul. S3 will assist ITSMF with responsibly recycling its organization's laptops, desktops and other devices.
In addition to an e-recycling agreement, the two organizations plan to collaborate on other initiatives. S3 will make financial investments into ITSMF partnerships, and S3's CEO Rod McDaniel will participate in ITSMF's Management Academy, a nine-month developmental and educational program designed for middle management professionals.
"I am excited to form a partnership with an organization that is helping train and inspire the next generation of C-suite leaders in the IT space," said Darrell S. Freeman, Sr. who is majority owner of S3 and has been a long-time ITSMF member. "By partnering with a premier organization that has tremendously diverse IT talent, we hope to demonstrate to others the possibilities of entrepreneurship and wealth creation."
Formed in 1996, ITSMF is a national organization dedicated exclusively to cultivating executive talent among black technology professionals. The organization's vision is to facilitate the creation of barrier-free opportunities for black technology influencers, innovators and leaders.
"We look forward to a dynamic and productive relationship with S3 Recycling Solutions and its leadership team," said Viola Maxwell-Thompson, ITSMF president and CEO. "Partnerships like this one align with our mission and vision because they believe in the power of education and professional development, as well as advocating for a diverse, inclusive and equitable workplace."
###
About S3 – Stewardship. Security. Sustainability. S3 Recycling Solutions is a full-service technology recycling firm with an emphasis on cost-effective processes for receiving, sorting, re-purposing and re-marketing electronic assets. We help our customers reduce the cost of ownership of their electronic technology assets, while providing a peace of mind that data security is maintained at the highest industry standards. Since its inception in 2007, S3 has supported a diverse client base throughout the United States and Canada. S3's vision is to combat our planet's e-waste epidemic by employing both environmentally and financially responsible processes for a stronger, safer global community. For more information, visit www.s3rs.com
About ITSMF – Since 1996, Information Technology Senior Management Forum (ITSMF) has been dedicated to increasing the representation of black professionals at senior levels in technology, to impact organizational innovation and growth. We do this by developing and nurturing these dynamic leaders through enrichment of the mind, body, and soul. At its inception, only 3% of senior-level positions in the technology industry were held by blacks. With a half-million new computer-related jobs expected by 2028, ITSMF is committed to increasing the number of qualified black professionals for these positions. For more information, visit www.itsmfonline.org.
Sign up to our Newsletter
(We do not share your data with anybody, and only use it for its intended purpose)